It is always a good feeling to scroll through and read messages exchanged between you and your acquaintances, friends and family. However, when you get hundreds of texts every week, it becomes a little difficult to manage the scrolling due to the sheer amount of time it takes to locate the message that you wish to go through again. Sometimes therefore, you would want to backup and save the messages to your computer, for the ease of access. In this walk-through you will learn how to download iPhone text messages to your computer.
Creating iPhone backup
An iPhone's backup is a mirror image of your iPhone on your computer. It is created by the iTunes software and lets you backup your entire iPhone contents to your computer. However, these contents are not readable and we would need a software which will be able to extract text messages (and other content if required).
Connect iPhone via USB
Connect your iPhone to your computer using the USB cable. This should auto-start iTunes (or you need to open it manually if it doesn't). You can download iTunes if you don't have it on your computer already.
Create backup
Now switch to the summary tab of your iPhone as shown on iTunes and click on the 'Back Up Now' button, as is shown under the Manually Backup and Restore section.
For a detailed tutorial, please go through the steps to create iTunes backup.
How to Download iPhone Text Messages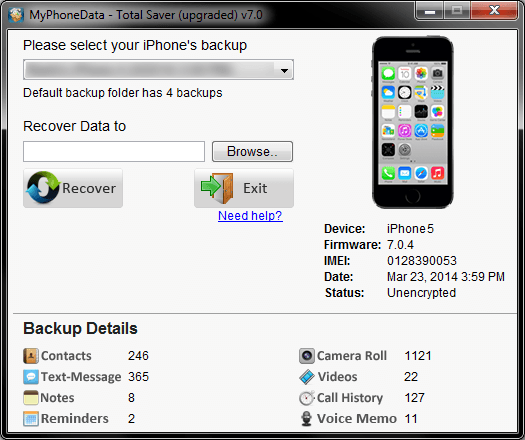 To download iPhone text messages, you will first need to install Text Saver on your computer. This software will extract and recover the text messages from your iPhone's backup to your computer in HTML and text formats.
Download and Install Text Saver
To download Text Saver, click on the appropriate download button as shown below:-
Open the downloaded zip file. On Windows, open it using Windows Explorer. On a Mac, double click the file to open it with Archive Utility.
To install, on Windows double click on the extracted installer file and run through the default on-screen instructions to have Text Saver up and running in under a minute.On a Mac, simply drag the Text Saver icon across to the Applications folder icon and you are set.
Selecting backup
Now that you have the software in place, click open it and the software will automatically detect the backup that was created a few steps ago. The backup date will be shown right below the iPhone image and you can ascertain the same by double checking it. In case, you wish to select a different backup to download iPhone text messages from, then simply using the backup selection dropdown menu to do so.
Selecting output folder
Now, browse to a folder where you wish to extract and download iPhone text messages on your computer. We would recommend that you create a new folder and point to it – this will ensure that all of your downloaded data remains intact and consolidated in one location.
Download iPhone text messages
Notice the number of text messages, as the software shows under the Backup Details section. Just hit the Recover button and the software will start extracting, recovering and downloading iPhone text messages to your computer. The text saver software will alert you as and when the extraction and download process completes.
Note:- if you are running the trial version of the software, only 1 text message will be downloaded. To download all the text messages, you will need to get the software license. To get one, choose the one that fits your needs the best (for home usage or commercial purpose) from the options shown below
Purchase and Register
PERSONAL USE
1 lifetime, unlimited usage software license
Scan and recover from backups of multiple devices
Complete Recovery
Online software instructions manual
Preview Recovery Statistics
1 year unlimited email support
Free upgrades to all service packs
COMMERCIAL USE
1 lifetime, unlimited usage software license
Scan and recover from backups of multiple devices
Complete Recovery
Online software instructions manual
Preview Recovery Statistics
1 year unlimited email support
Free upgrades to all service packs
Free remote assistance session for software setup
For commercial use