Photos are a great way to capture memories and events for time-spans in our lifetimes which we would want to revisit sometime in extended future. Photos therefore are precious to us and loosing them for any reason would not make us feel nice. In this era, we have moved away from using digital cameras to using our phones to capture photographs. Therefore, we make Photo Saver to help your recover iPhone photos from iTunes backup files.
iTunes backup
So what are iTunes backup files? Every single time you connect your iPhone to your PC or Mac, it auto-backs up your iPhone (you can also manually backup iPhone). A backup is like a mirror image of your phone on your computer. This is so, because whenever required, you can restore from the backup and have your iPhone back in the state it was when the backup was taken. In sum, it works the same way as Time Machine for Mac.
How to recover iPhone photos
Now the big question is that does iTunes, iPhone or Apple allow selective restore to recover iPhone photos or other data. By selective restore, we mean to allow you to individually select photos or files which you would want to transfer back to your iPhone, in case there were deleted, erased, corrupted on the device for some reason. The short answer is No. You can only do a complete restore from an iTunes backup, and what means is that your iPhone will sit into a time machine and get back dated to when the backup was last created. You will loose every single bit of information that was created, imported or saved onto your iPhone after the backup date. For example, let say you created an iPhone backup on January 1st and accidentally deleted a photo album on March 1st. If you connect your iPhone to iTunes and choose to restore, its guaranteed that you will loose all photos, videos, contacts, apps, text messages and everything else that was saved or created on your iPhone between January 1st and March 1st.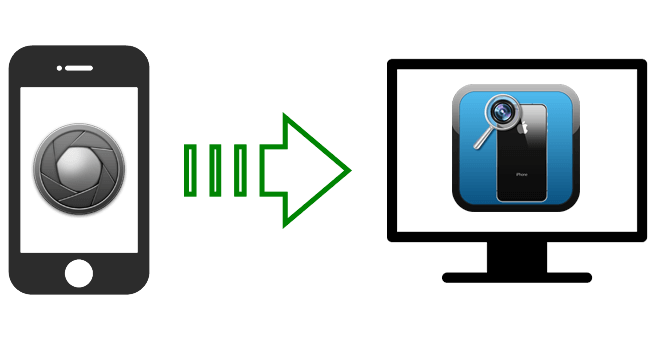 So now, you don't want to loose all the new information, but you also want to recover iPhone photos from iTunes backup files. How do we do it? Well, we use a software called Photo Saver, which will help us recover iPhone photos from the backup. It's easy to use, time saving and gets you all the photos that exist in the Camera roll and Photo Library of your iPhone's backup.
To get started, download Photo Saver on your PC or Mac by clicking on the appropriate download button
The downloaded file would be the one with zip extension. Simply open it using the default Windows Explorer (on Mac double click to open with Archive Utility).
Steps to recover iPhone photos
Install the Photo Saver software on your computer. On a Mac, simply drag the Photo Saver icon across to the Applications folder icon. On Windows, follow the onscreen default instructions to install Photo Saver.
Now, run the software. On a Mac, go to Applications and click on the Photo Saver Icon. On Windows, go to Start Menu -> All Programs -> MyPhoneData -> Photo Saver -> Photo Saver
The software will automatically detect your iPhone's backup and will list the details under the Backup Details section. If you don't see a backup listed, that would mean that your iPhone has never been backed up. Follow this tutorial to create your iPhone's backup.
The number of photos that can be recovered from iPhone's backup will be listed there in besides the Camera Roll field. Now, click on the Browse button and select a folder location where you wish to save the recovered photos.
Click on the Recover button and the software will kick start the recovery process.
The free version of the Photo Saver software will help you recover 1 photo. If you wish to recover all photos from your iPhone's iTunes backup, then simply get the software license for Photo Saver by visiting this page, or get the license by choosing the respective option from below.
Purchase and Register
PERSONAL USE
1 lifetime, unlimited usage software license
Scan and recover from backups of multiple devices
Complete Recovery
Online software instructions manual
Preview Recovery Statistics
1 year unlimited email support
Free upgrades to all service packs
COMMERCIAL USE
1 lifetime, unlimited usage software license
Scan and recover from backups of multiple devices
Complete Recovery
Online software instructions manual
Preview Recovery Statistics
1 year unlimited email support
Free upgrades to all service packs
Free remote assistance session for software setup
For commercial use